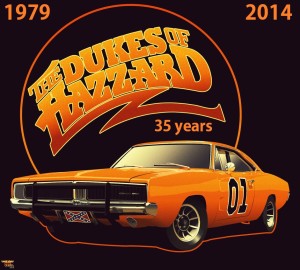 The Dukes of Hazzard first hit the air on January 26, 1979, bringing the General Lee and the Duke boys to television screens across America. It was a simple show about two good ol' boys fightin' the system, but it became a cultural phenomenon. The Dukes of Hazzard remains one of the most popular television shows of all time.
To celebrate the 35th anniversary of the Dukes of Hazzard, CMT will broadcast an 8-hour Dukes of Hazzard Marathon on Sunday, January 26, 2014, starting at 2 p.m. Eastern. Viewers are encouraged to make social media noise via #Dukes35 on Twitter. CMT will be choosing fan names and their favorite Dukes facts to air during the marathon.
Tune in, enjoy the Dukes of Hazzard, and be a part of this milestone in television history! YEEHAAA!