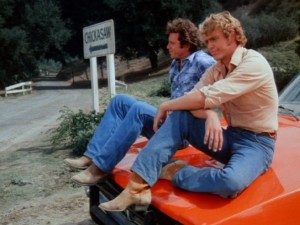 Is it over so soon? After years of absence from the air, CMT had brought back The Dukes of Hazzard to its lineup last January, running multiple all-day marathons and daily episodes. Yet this particular return of the Dukes seemed a bit strange.
Maybe it was the fact that the Dukes of Hazzard episodes were aired in random order. Or the fact they were in such heavy rotation right off the bat. Or the fact that "Party Down South" commercials were given nearly as much airtime as the Dukes episodes. We speculated in a prior post that maybe CMT was just using the Dukes to pimp their other crappy programming.
Well…maybe they were. A quick visit to the Dukes page on CMT's website shows no Dukes of Hazzard episodes scheduled in the upcoming week. Is it a short break while CMT organizes the summer lineup? Or dismissal until further notice? Given how CMT has handled the show – with heavy repetition of the same episodes, erratic air times and chopping for excessive commercials – it may be no loss.
CMT clearly capitalized on the popularity of The Dukes of Hazzard to promote Party Down South. After renewing the crap that is PDS for a second season, CMT appears to have shelved the Dukes again. We could be wrong. But having watched CMT vigorously promote, and then defend, PDS as the most popular offering in its lineup (which tells you how far this channel has sunk) we have little reason for optimism.