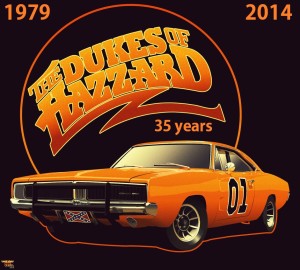 Dukes of Hazzard News: Good news for all Dukes of Hazzard fans that are going through Duke Withdrawal – the Dukes have returned to the CMT schedule!
The last time CMT aired a Dukes of Hazzard episode was November 17th. According to the CMT schedule at that time, the Dukes were only supposed to be off the air through Thanksgiving Day.
However, CMT changed their tune and their schedule without warning, leaving fans in a lurch.
It now appears that The Dukes of Hazzard will return to CMT on December 8th, 2014. Here's a quick rundown of upcoming episodes!
Monday, December 8th at 12 PM Eastern: "The Boar's Nest Bears": Boss Hogg blackmails Bo and Luke Duke into coaching his basketball team for a high-stakes game.
Monday, December 8th at 1 PM Eastern: "Boss Behind Bars": Jesse Duke has a wreck during a race due to sabotage, and Boss Hogg is framed as the culprit.
Thursday, December 11th at 12 PM Eastern: "Targets: Daisy and Lulu": Daisy and Lulu unwittingly possess stolen gems, and are pursued by vengeful jewel thieves. The Dukes, Boss Hogg, and Sheriff Rosco P. Coltrane go to great lengths to protect them – with Boss and Rosco dressing in drag!
Monday, December 15th at 12 PM Eastern: "Enos's Last Chance": A mob hitman who was captured by Enos escapes from prison, and comes to Hazzard County to collect revenge.
Tuesday, December 16th at 12 PM Eastern: "High Flyin' Dukes": The Dukes get all up in the air when Hazzard County farmers are threatened by crop-destroying extortionists.
Wednesday, December 17th at 12 PM Eastern: "Cooter's Girl": A young lady comes to Hazzard County to meet her father for the first time, surprising Cooter when he's not exactly at his best!
Will CMT show more of the Dukes of Hazzard? Stay tuned, and we'll share updates as they become available! Like our Facebook Page for daily doses of the Dukes of Hazzard!