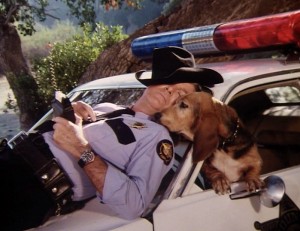 James Best, known as "Jimmie" to his friends, passed away April 6, 2015, at the age of 88. He is most famous for his role as Sheriff Rosco P. Coltrane in The Dukes of Hazzard. He appeared in numerous TV shows and movies during his long entertainment career.
And that's about as much as we can write with dry eyes. Please excuse us as we chuck journalism right out the window and share our hearts. There is nothing we can say to do justice to how much Jimmie is loved by his family, friends and fans.
As we write this, our Facebook page post about his passing is being filled with heartfelt comments from fans around the world. There isn't a Dukes page that isn't full of sympathies and memories. Jimmie's website has an elaborate and well-written James Best obituary that you can read for details about his life and career.
We were fortunate enough to spend some personal time with Jimmie over the years. We had moments with the real man, not the celebrity, and we saw him when he was happy, or tired, laughing, or pissed off. He was human. He had his dreams and his frustrations. Fine points and flaws. But most of all, he was chock full of love. Love for people, children, dogs, animals, nature, fishing, art….we can't list it all. His heart was incredible. We believe his capacity for love and humor was the secret to his long and successful life.
Jimmie had a zest for living – including a very earthly sense of humor – and he had a tremendous sense of adventure. He was extremely talented and creative. He also had great personal courage, and it enabled him to overcome adversity and chase his dreams. (most of them, we're happy to say, he caught!)
Jimmie loved making people laugh. He loved to laugh right along with them.There were times that Jimmie would be tired and frustrated, and say that he wanted to be remembered for more than just being Rosco. Yet moments later he would slip into Rosco-mode, easily, on a whim, and send whatever serious thoughts you might have had, flying out the window. He would do this without warning, and if it made you screw up the phone call you were trying to make, that was a bonus.
Jimmie, we love ya, and we're going to tell you now, what we told you back during a DukesFest in Sperryville.
There is nothing wrong with being remembered as Rosco P. Coltrane, who brought laughter and smiles to people around the world. Who became part of a pop-culture phenomenon that lives on decades later. You breathed your heart and soul into a character and made him unforgettable. Rosco is a legacy, and he'll live on forever.
Jimmie, you leave behind a legacy of laughter and love. You leave behind heartbroken family, friends and fans who aren't ready to say goodbye, though we knew this day was coming. Right now, you're probably fishing on a beautiful, pristine lake with some old friends who have been waiting patiently for you. We'll miss you, Jimmie, more than our poor words can express. We love you. Thank you for giving us Rosco, who's here to make us smile through our tears.
God bless.