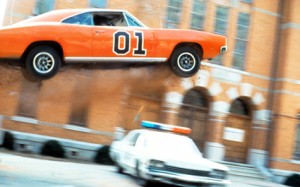 CMT is airing the Dukes of Hazzard again…sort of! The Dukes schedule is wild and random.
Many fans on our Facebook page, Dukes of Hazzard County, have reported that their own cable TV schedules don't jive with CMT's posted schedule.
CMT seems to be making these programming decisions last-minute. On the plus side, they are now airing a wider variety of Dukes of Hazzard episodes.
Here's what CMT is offering up, per their website:
Wed June 25: Dukes of Hazzard episodes at noon and 1 p.m. eastern
Sun June 29: Dukes binge marathon, starting at 2 p.m. eastern and running through the wee hours of Monday June 30, last episode airing at 7:00 a.m. Monday.
From there, it starts getting weird. Tues, July 1 shows the Dukes of Hazzard airing at 6 a.m. and 7 a.m. Yes, just when you got the idea it would be on at night…HA! This is CMT we're talking about.
But then Wed, July 2 shows the Dukes on at 6 a.m. and 7 a.m, but again in the afternoon, starting at noon. Folks, sometimes we miss the days when there were three freaking TV channels and a couple of UHF stations, and TV schedules behaved themselves. The CMT schedule changes like the weather, and we've got about the same ability to predict it. Which is zilch. As always, stay tuned, and check your local listings!