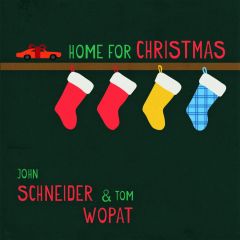 Dukes of Hazzard News – November 17, 2014: Dukes of Hazzard co-stars Tom Wopat and John Schneider have released Home for Christmas, their co-produced holiday album, after a wildly successful Kickstarter campaign. Home For Christmas features 18 warm and inspiring Christmas songs performed by a classic jazz ensemble, complemented by Wopat and Schneider's rich, mellow vocals.
Wopat and Schneider each had a number of hits on the Country Billboard charts in the 1980's. While both of them have enjoyed independently successful music careers, including Broadway theater roles and studio recordings, they have also performed many concerts together. Producing an album together was always talked about, but studio backing proved elusive – and self-producing would prove expensive.
Enter Kickstarter. In 2014, when the "Duke Boys" decided to make a Christmas album, they appealed to longtime Dukes of Hazzard fans for help. The goal was to raise $60,000 dollars by August 1st, with a promise that the album itself would be out in October. Not only did Wopat and Schneider meet their goal, but they went over it! The total amount raised on Kickstarter was over $73,000. On October 28, 2014, Home For Christmas was released.
The question that all fans of Tom Wopat and John Schneider have, is… just how good is the album? For answer, here is a YouTube clip of one song from the album:
Time has not softened the voices of these TV icons, Billboard chart-toppers and Broadway stars. Any fans that want to help celebrate the Home for Christmas CD release can go to the party at Joe's Pub on Dec 2 at 9:30 p.m., located at 425 Lafayette Street in New York City. In the meantime, be sure to get The Home For Christmas album for yourself!
– article by Jax