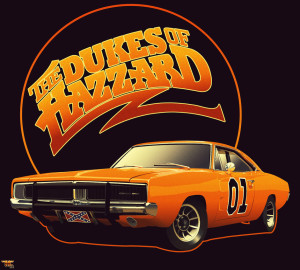 2014 is shaping up to be a good year for Dukes of Hazzard fans, as CMT has returned "The Dukes of Hazzard" to its broadcast schedule! Best of all, the Dukes will be shown in HD quality for the very first time!
A Dukes of Hazzard marathon will air on Sunday, January 5, 2014 on CMT, with several episodes shown back-to-back. The week of January 6 through 10, Dukes episodes will air twice a day.
After that, the schedule changes some more, and you'll have fun programming your DVR to keep up with it. Plan ahead by visiting the Dukes of Hazzard TV airtime schedule on CMT. As always, check your local listings to confirm scheduling in your area!
Wanna talk about the Dukes of Hazzard? We never get tired of it, so join us in the Forums, and visit our Facebook page for more daily doses of the Dukes! Yeehaaa!